Last Respects in the Presence of the Ashes at the Church or Place of Worship of Your Choice
This package offers to pay a last tribute in the presence of ashes at the church or place of worship of your choice. Reception at the church or place of worship in addition.
INCLUDED :
Professional fees, coordination of funeral services and administrative procedures.
The cremation, cremation container and cardboard transport urn.
Handing over the ashes to the family at our resort.
**For all beneficiaries who have purchased any of our pre-arrangement packages, the care of the deceased will be included within a radius of 50 km around our facilities. For any new death without any pre-arrangement contract, transportation of the deceased will be included only within a radius of 25 km around our facilities. A charge of $4 per kilometre for the extra distance may be added to the contract.
*** The direction of the funeral: transport of the ashes to the place of the last tribute. This service is free of charge within a radius of 50 kilometres from our facilities. Additional charges will apply for distances exceeding 50 kilometres.
OPTIONAL :
This package can be changed at any time by replacing the transport box with one of the optional products, with the price difference between the entry-level product and the higher quality products. By opting for the delivery of ashes and documents at home. It is also possible to add keepsakes, jewelry, flower arrangements and personalized bookmarks, at extra cost.
For celebrant services or use of the parlour, contact an advisor, charge extra.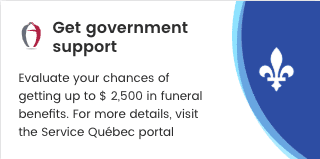 * If this is an imminent death, please call us at 514 367-8387.
LAST RESPECTS in the presence of the ashes at the church or place of worship of your choosing
Professional Fees
Service Coordination
Preparation of Government Forms
Transportation of the Deceased **
Cremation Container
Cremation
Ecological Transport Urn
Funeral Management ***
* Plus taxes and government registry fee with no hidden charges. Please note that taxes will be added at the end at the time of payment.
We are available
every day at the complex, from 9:00 a.m. to 5:00 p.m. and by phone 24/7, 7/7